Benefits of Using UKG's HR and Payroll Solution Software
EBC strives to connect with customers in providing them with the right tools and guidance. That's why we offer UKG for your HR and payroll needs. In partnering with UKG, you have a software with people behind it who want to understand your company and how it works. UKG's software solutions are the perfect example of how UKG takes the time to understand your company. This allows for the balance that makes your employees happy and business successful.
The exclusive dedication to HR and payroll solutions enables UKG to:
Build a more connected experience between the people and operational sides of work than you'll see in any other enterprise solution, including invisible data flow, powerful combined analytics, and a comprehensive experience across all HR, payroll, and workforce management solutions.
Deliver tools that go beyond traditional expectations of HCM and workforce management –inspired by decades of deeper insight and data points around what really drives engagement, motivation, and productivity at work. That's how we've been able to be first among our competitors to claim integrated HR service delivery, charitable giving campaigns, intelligent shift recommendations, diversity and inclusion pulse surveys, and more.
Introduce ways to augment important people decisions in the flow of work powered by our award winning, people-inspired artificial intelligence, and machine-learning. AI that understands both human behaviors and work patterns, helping to disrupt biases, promote fairer decisions and surface more equitable practices. All while producing higher levels of productivity than previously known.
Quickly adapt to the unknowns by leaning on our accelerated innovation investments and first-to market solutions that help people leaders create healthier, happier workforces.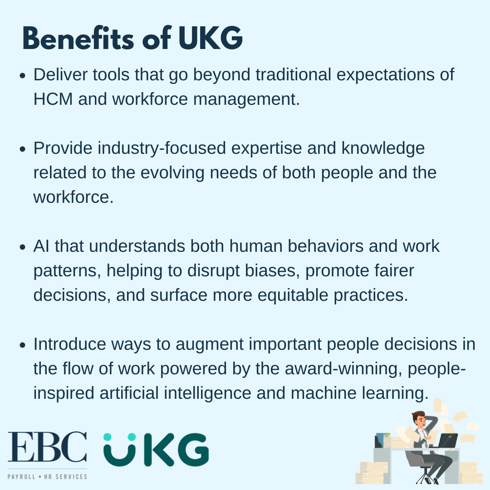 In working to prioritize the understanding of people and work being done, EBC uses UKG to create a unique and strong partnership. We strived to partner with other businesses for life and prioritize your HR and payroll experience just as much as the products we sell. In doing so we want customers to know how important trust is.
Highly-tenured and engaged support teams, dedicated to your organization, to help guide you as you first implement and then continue to extend the value of your UKG solutions.
More industry-specialized and domain expertise from decades of experience as both people and workforce experts — including stress-free launches led by experts that know your business, and zero disruptions with ongoing learning, where and when you need it.
Innovations across solutions and services fueled by our own unique culture built on belonging, kindness, and growth — such as finding new ways to help employers support diversity, equity, and inclusion initiatives, corporate social responsibility, equitable pay, safety and wellbeing, and other topics critically important to attracting and retaining talent today.
---
Having EBC HR & Payroll Solutions, Inc. on your team allows you to move forward with confidence, knowing that we're doing right by your employees, doing right by you, and it's all being done in accordance with all the latest rules, regulations, and laws. Our philosophy is to provide a comprehensive, wide range of services to all our clients.
For more information regarding Tax/Banking and Payroll Services provided by EBC, please reach out to Mark Terry, Business Development Consultant at 716.998.4404 or mterry@ebchcm.com and/or Charles Bagley, Sr. Human Capital Management Business Consultant at 716.574.9947 or cbagley@ebchcm.com.
Source: UKG Blog